REMINDER FOR PARTICIPANTS IN MARATHON

The Čiker MTB marathon is approaching and the marathon participants who had been on the marathon before already know what they need to take on a 10-day journey by bicycle, butt here are always somethings that we should be reminded of. There is no universal list that would suit each participant but a little reminder of some small things can make life easier for us during the marathon.
Safety
Helmet, gloves, goggles - the default items for every cyclist, which are important primarily for safety reasons, and considerably less from fashionable ones ;) Flashlights, headlights and other light signals are often forgotten or neglected as marathon rides happen in the daytime, but we also have tunnels on the road, and sometimes it is good to spend the evening riding through the place we are in, so it is necessary to have a lighting at hand (instead of buried somewhere deep in the bag).Locking a bicycle is important, so store cables or other equipment of that type. In most places there are objects in which bicycles will be locked, but surely you should take into account the extraordinary situations, and additional caution can reduce the worry or headache..

The clothes
An important question for anyone who plans to drive for ten days in a row. Hygienic and health reasons are obvious. For a "home" journey of only a couple of hours you can use both ordinary shirts and shorts, but if you take care of your health, it is important to use active clothes for longer days, as well as jerseys that quickly dry out sweat or after washing. It is important to have enough clothes, which depends on personal affinity and planned manner of maintenance (washing during marathon or putting dirty clothes in a special bag). Rainwear (raincoats, rainbow trousers, jackets, etc.) is necessary because weather conditions can change very quickly, despite the weather forecast. Its good to have a warmer piece of clothing, especially for evening hours or for altitudes that bring lower temperatures, even in the summertime when the marathon takes place.
Suitable items are bandana, balaclava or lightweight scarves that can have multiple uses (for absorbing sweat, cooling, heating, mosquito protection, etc.).Shoes should be comfortable and pre-tested in one-day rides. If you find out on the marathon itself that your cycling shoes are making blisters, it will not be easy to find a replacement. Slippers that you will use in the end of the day are certainly an important item.

Food
This issue is very individual, as some participants will use their own food, some will be supplied conveniently in stores, some in accommodation or in taverns, and most by combining these methods.It is certainly necessary to have something in your bags during the days drive, besides everything that has already been planned in advance. Dried fruits are an obvious choice for many because it is relatively light, long-lasting, and energy-efficient as fructose (fruit sugar) is rapidly dissolving. Of course, industrial products are usable, and every cyclist knows that "bonzita" at the right moment can add just enough energy to complete the ride. If there are options, fresh fruit obtained along the way is an excellent choice. It is important to maintain the level of electrolytes and minerals that are lost during driving, so it is important that in the evening, after driving, you can take in some of the food "on a spoon", for example, soup. Water ... there is no need to spend much writing about this, its always and important to have it, absolutely necessary. You can make the specialized drinks for athletes that contain mineral and vitamin supplements during the driving.
Mountain biking
It is considered that mountain bike was born in California, more precisely Mount Tamalpa, a peak of Marin County, in the 70s of the last century. A group of biking lovers gathered around the idea to modify already existing bicycles so that they are suitable for the ride outside asphalt road, i.e. any kind of terrain. The most famous members of that group were Joe BreezeGary Fisher, Charlie Kelly, Tom Ritchey, Keith Bontrager and Charlie Cunningham, and even today their names are found on bikes all over the world because later on they established companies for MTB equipment production.
The interventions and modifications they did to already existing factory produced bicycles were numerous, starting from frame reinforcement, replacing the concept of braking, adding damping elements, change of geometry, adding chain sprockets and replacement of road tires.
At those times people were not familiar with many disciplines we know today, and the first one that these enthusiasts practiced was descent. They overcame ascent in trucks, and then, from the top, they descended at the foot of a mountain. In time however, they came to a conclusion that they should round-up the whole process, which meant that ascent should also be overcome by bicycles. Therefore the first modifications included frame reinforcement and the system of braking. Afterwards they moved on to add small power-driven chain sprockets, bigger at the cassette of the rear wheel and some other interventions which could support everything and make bicycles functional. The specialization for various disciplines came along, so the construction solutions were.
The series production started in 1982, in the companies Specialized and Univega. Mountain biking became the Olympic sport in 1996 in Atlanta (as a demonstration sport, and the only discipline was cross country). From the year 2000, it has been shown as a full-fledged sport.
Today, mountain biking is acknowledged and wide-spread sport both in competitive and recreational sense, and it will continue to grow as the desire of every contemporary man is to turn to nature as much as possible, and this sport is one of the best ways to do that.

THE REASONS TO ENGAGE YOURSELF IN MOUNTAIN BIKING
Health and good physical condition which one acquires while being in nature
The possibility to ride over any terrain, at any time of the year
Freedom to ride in company or on your own, whenever you want and for how long you want to
Reduction of air pollution by lessening the usage of motor vehicles
Reduction of costs upon using bicycle in everyday activities
Feeling of freedom and access to some places you couldn't reach by car
Easy maintenance, parking in urban areas
You don't depend on timetables, city traffic and crowds...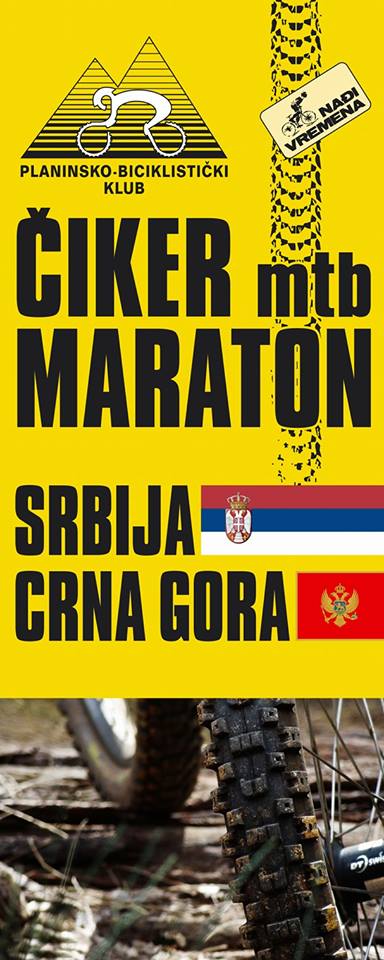 Find some time to play, that's the secret of youth
Find some time for friendship, that your way to happiness
Find some time for dreaming, that's the path towards the stars
Find some time to look around you, the day is to short for being selfish
Find some time to laugh, that is the music of your soul

Follow Us: